Following a picturesque route amongst olive groves and fruit orchards, you will reach one of Pelion's most famous fishing villages overlooking the Northern Sporades islands. Platanias, located at 60 kilometers northeast of Volos, is Promyri village's seaport, and is also the biggest fishing preserve of Magnesia Prefecture. In the little port of the village one can see many kinds of fishing boats and yachts.
---
The port of Platanias has been known since the ancient years. The sea between Platanias and the island of Evia was where the naval battle of Artemisium, between Greeks and Persians, took place. Also, Herodotus refers to Platanias by the name "Ancient Afetes", place where the Argonauts stopped to rest and get food and water supplies.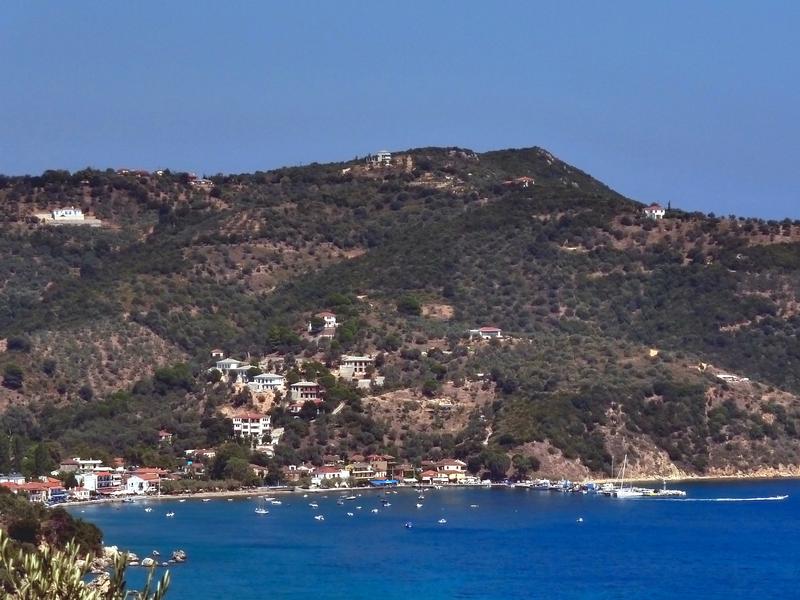 Platanias is an excellent location for a relaxing vacation. It offers modern touristic facilities that can satisfy any kind of visitor, while cherishing the traditional color of the region of Pelion. In the summer, it teems with life attracting a large number of tourists, as it offers everyday services and tours to Northern Sporades, as well as other interesting nearby destinations. For your stay, you can choose between the village's lodging or the camp site, or even the camp site by the beach at Kastri with shady parts by olive groves. Inside the village you will also find a mini market, a bakery and cafés.
By the port of the village you will see Platanias' beach, both sandy and with tiny pebbles. With its waters being peaceful and shallow, it attracts families with children. In the middle of the beach there is a small bar with loungers and umbrellas. The luckiest of all, though, would be the one to make it to a spot under the shade of the only plane tree at the tip of the beach.
Platanias' beach aside, the village is also surrounded by other enchanting beaches, with the best known being Mikro and Kastri. Following an about 15-minute trail, you can even walk to the heavenly beach of Mikro. You can also pop over onto Skiathos island, which is across, by sea taxis that offer everyday services. The route from the little port of Platanias to Koukounaries beach on Skiathos takes about 25 minutes.
Daily cruises are a terrific opportunity to explore the area by sea; they are performed by local boats giving tours along the coastline of southeastern Pelion and Skiathos. Moreover, worthy of a visit is the surrounding area of Platanias, where ruins of archaeological and religious interest can be seen, evidence of the historical importance of the place. Following a full day, the best thing to do is to enjoy perfectly fresh fish and sea food mezes (small plates) at the little taverns of the village by the sea.
So, it comes naturally, that this wonderful vacation spot with the intensely traditional character, is selected every year by travelers of every age who seek a combination of peace and relaxation with the possibility of explorations and adventures.
---